Eczema gloves
Eczema gloves - Gloves eczema.
Tepso® an ally in medical therapy.
Thanks to the use of a new zero-friction techno-fibre previously unknown in the clothing sector, Tepso brings together a series of unique and revolutionary characteristics:an immediate sensation of coolness.
Tepso has one of the lowest friction coefficients of all solid materials.
Advantages Tepso:
The fabric is extremely smooth.
Ointment is not absorbed into the gloves and thus acts more effectively on the skin.
Mild cooling effect on the skin Soothing to the skin.
Reduces itching.
No heat accumulation.
Clinically proven.
Cream or stains easily wash off. Do not stick to the Tepso fiber.
Inhibits growth of bacteria and fungi.
Clothing does not stick to the skin.
Recommended by dermatologists.
Keeps its shape after many washes.
Seams and labels on the outside.
Made in Austria, Europe.
Very long wearing life. Sustainable.
Fiber with inhibitory effect on bacteria and fungi, without the addition of pharmaceutical substances.
Very little friction. Skin irritation is thus drastically reduced.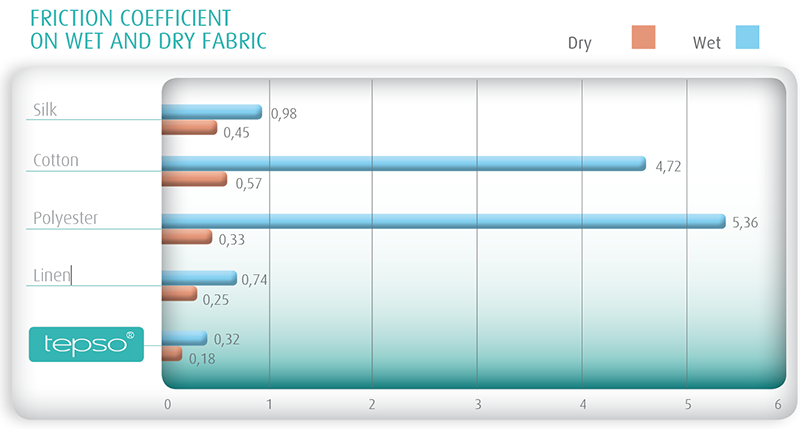 Other advantages Tepso:
• substantial reduction of skin irritation due to the extraordinary slipperiness of tepso fabrics;
• high levels of breathability;
• comfort and wellbeing for the wearer;
• attention to detail: seams and labels do not come into contact with the skin;
• it does not absorb creams or ointments, optimising use even after frequent washes;
• easy-care and maintenance: stains and oil spots can be removed more easily than on traditional fabrics, even at low temperatures;
• much longer-lasting than traditional garments, thanks to its special hardwearing and resistant properties.
Psoriasis or atopic dermatitis / eczema is often associated with nuisance itching and unattractive lesions. This can be particularly unpleasant on the hands and can also hinder your work. That's not necessary, for the Tepso® "skin active" eczema gloves Premium give you the solution! The unique surface and a polyamide layer allows you to work around many problems:
Gloves eczema Made in Austria.
Enhanced durability
Eczema gloves for adults
Creams or ointments against psoriasis on the skin do not penetrate outside;
The Tepso® "skin active" inner side gives a fresh, pleasant skin sensation;
The elastic material adapts to your hands beautifully;
Do all tasks without problems.
With our Tepso® "skin active" Eczema Gloves or mittens for eczema Tepso Premium, you can work while also fighting psoriasis or atopic dermatitis/eczema. This version of our gloves is even more durable. These gloves have a smoother surface with less friction than silk gloves for eczema or cotton gloves for eczema. Tepso® gloves are the best in class gloves for eczema hands and are promoted by dermatology specialist worldwide. Tepso® eczema gloves are also the no. 1 eczema gloves for kids and great mittens for kids with eczema. Tepso® eczema gloves are excellent gloves for dermatitis hands have less skin friction than i.e. bamboo eczema gloves.
Don't let psoriasis or atopic dermatitis/eczema dictate your everyday life! Seize the benefits of our gloves - grab some today!
Size reference
Tepso® eczema Gloves Premium are very elastic, a size indication in conventional glove sizes does not make sense. Size S covers all ladies sizes, size L all men sizes.
Made of
51% Tepso®
44% polyamide
5% elastane
We have a complete assortment of gloves for psoriasis on hands, eczema gloves.
Eczema Gloves from Tepso® are often considered superior to cotton gloves for eczema.